Itinerary :
DAY 1 (L, D): HANOI - BAITULONG BAY - SURPRISE CAVE (L/D)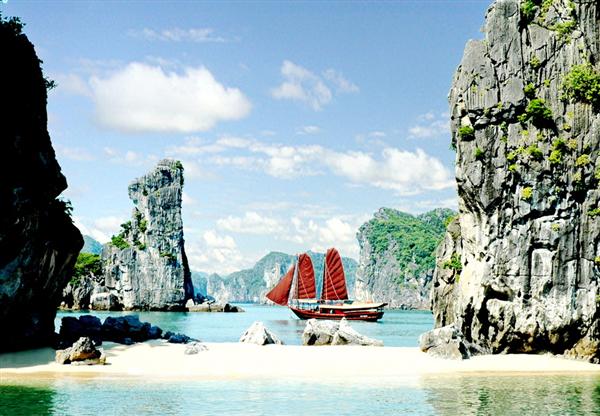 08h – 08h30: Pick up from your hotel. Depart for Halong city through the countryside, farmlands and Red River delta.
10h15: Stopover on the way for a refreshment break
12h30: Arrive at Hongai habour – next to Baitho (poem) mountain, check – in on Cruise. Welcome drinks will be served.
13h00: Lunch is served while cruising through the Baitulong bay to Halong bay.
15h15: Visit splendid Surprise (Sung Sot) Cave. This is one of the most beautiful grotto in Halong bay. You will feel surprise about imposing of stalagmites, stalactites and many legend stories about that.
16h30: Time for kayaking around surprise cave area. You will have got around 45 minutes to explore halong bay and some tunnel by yourself
17h15: Back to the Cruise, cruising to Drum cave for docking and sleeping. Passing many beautiful islets on the bay: Head man's face islet, Saddle horse islet, Fairy lake, drum cave, Virgin cave.
Time for relaxing afternoon, make the most of sunbathing on deck. Taking picture on the way... Enjoy the small party with fresh fruit and Vietnamese tea.
19h00: Dinner is served in the restaurant.
21h00: Leisure time to enjoy a chat around the bar, dancing, karaoke; watch movie or enjoy night fishing… Relax and spend a romantic night on board
DAY 2 (B, L, D): SURPRISE CAVE AREA - PRISTINE LAN HA BAY - KAYAKING ( B/L/D )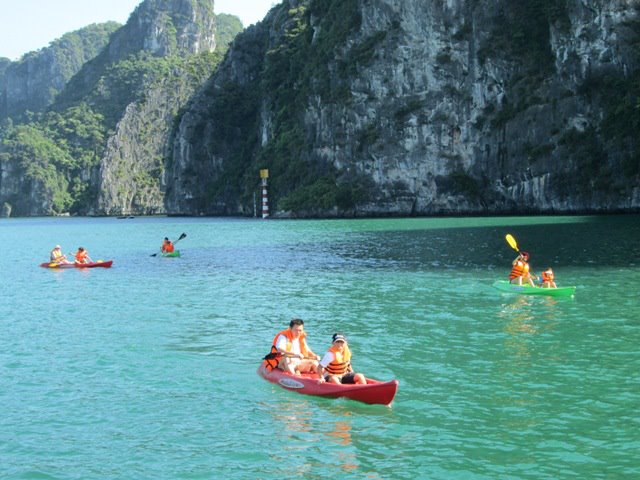 06.30: Start a new day by attending morning exercise on the sundeck and hunting photos of sunrise.
07.00: Enjoy breakfast on board while complimentary tea & coffee are served.
08.00: Transfer to a smaller boat, cruising to Pearl Village to visit a Pearl farm, which was established in 1995 by Japanese experts!
10.30: Cruise to Dark and Light Cave – the untouched area for kayaking.
12.00: Special lunch is served on the day trip-boat and relaxation.
14.00: Continue to reach Ba Trai Dao Islet where have the most beautiful islets and dramatic natural scenery for swimming, sunbathing…
16.30: Return Junk Cruises to refresh and relax and make new friends from new group.
19.30: Enjoy dinner on boat. Just relax and spend an unforgettable night on board.


DAY 3 (B, L): BAI TU LONG -VUNG VIENG FLOATING VILLAGE - HON GAI HARBOUR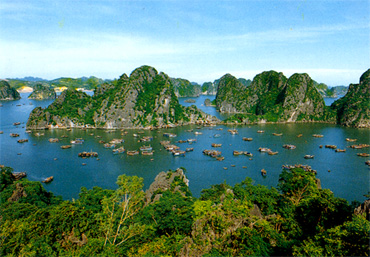 Start your day with Taichi exercises or a photo hunt. 07h00: Breakfast, coffee and tea and served while cruising ahead to Baitulong Bay. The route is really tranquil and islets really imposing.
08h15: Get on small to cruise (around 1 hour) to visit Vong Vieng floating fishing village and kayaking . Our guide will give you some information and interesting facts about this fascinating village and its local community.
09h30: Back to Cruise. Take time to refresh and relax before checking out. Keep sailing back to the Habour through the waters and passing many beautiful islets and island on the Baitulong Bay.
10h30: Vietnamese Cooking Class.
11h00: An early lunch is served.
12h00: Arrive at the pier. Time to say goodbye to the crew
12h45: Return from Halong to Hanoi
14h30: Stopover on the way for soft break
Around 17h00: Arrive in Hanoi. Tour finish.
Fares Include:
* Experienced guide & incredible chef
* Entrance fees and Sightseeing Tickets in Ha Long Bay
* Five lavish meals and two breakfasts
* Two free bottles of mineral water (in your room), tea, coffee and seasonal fruits
* Two-seater sea kayak, life jackets and water proof bag
* Accommodation 2 nights on board
Note:
* Life jackets for children are available
* Double sea kayak, life jackets and water proof bags are available
* Swimming or kayaking excursions may be cancelled due to poor weather.
* Cruise itinerary and schedule are subject to change due to weather, and tide levels 
Thing to Bring:
* Original passport, Sun block, sun glasses, camera & film, Insect repellent, wide brim hat, swimming costume and extra money for drinks.