Itinerary :
Day 1 Hanoi / Halong Bay / Lan Ha Bay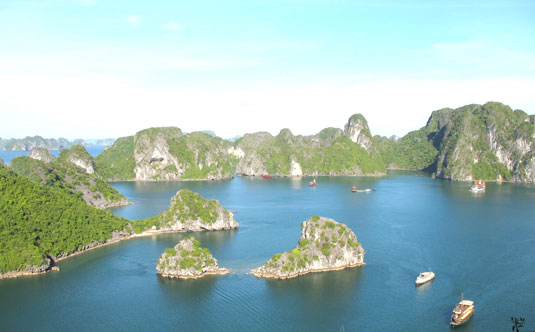 Halong Bay and Bai Tu Long Bay of the submerged dragon, which boast 3000 craggy and towering islets, are amongst the most picturesque places in Vietnam.
The fantastic beauty of the bays has given rise to many legends, some of them dating back to the ancient past. It is said that a dragon descended into the deep water spitting out gems as he did so. And thus the rocky islands were formed.
Departing Hanoi we journey to Ha Long City. Upon our arrival we embark on a junk trip amongst some of the spectacular limestone peaks – time to relax and appreciate the sublime beauty of the bay.
Well off the tourist trail, we indulge in Hang Trong, a beautiful spot, perfect for the night on our traditional junk. (Lunch and dinner are included).
Day 2 Halong Bay / Bai Tu Long Bay
A morning cruise brings us to some of the bay's truly awesome scenery – vertical and unusual rocks and islets emerge from the sea. Weather permitting, there will be an opportunity to swim in the clear waters.
Leaving Halong Bay, we drive due north to Cai Rong Island. In Bai Tu Long Bay we enjoy a beautiful junk trip among the spectacular limestone peaks. Weather permitting, we take a kayaking ride through stunning rock formations and fishing villages.Arriving on Quan Lan Island, a serene and beautiful island in Bai Tu Long Bay, we head to the family home and farm of Mr Sau, a warm and friendly retired fisherman.
Here, we have the opportunity to learn to make traditional Vietnamese Spring Rolls and succulent fish dipping sauce and Squid dish. Then we share dinner with our host. Tonight we stay overnight with them. (Breakfast, lunch and dinner are included).
Day 3 Bai Tu Long Bay / Hanoi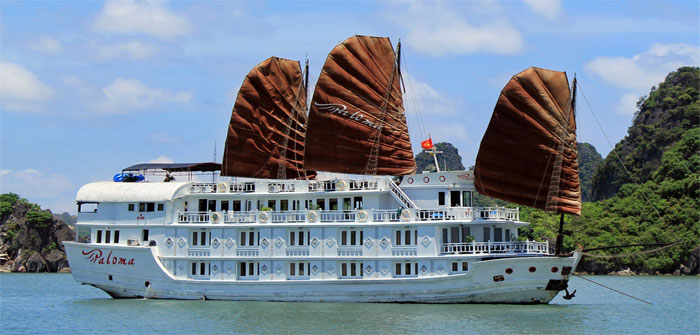 Quan Lan Island is located in Bai Tu Long Bay. The island is blessed with stunning beaches, scenic hills, sand dunes and surroundings sprinkled with tiny villages.
There is so much to see and do on Quan Lan Island - why not get a feel for the island by exploring an early fishing market or taking a quiet morning strolling around the picturesque village of Quan Lan and watching the day unfold on the island.
Next, we cycle to explore further northern reaches of the island. Late in the morning we board our junk to discover further northern reaches of Bai Tu Long Bay.
Time permitting, we retire to a beautiful cave and make a wish to have the perfect panoramas of the dramatic rock formations. This is followed by our journey back to Hanoi, arriving there at about 6pm. (Breakfast and lunch are included).
size
Valid from 01 Jan 2013 until 30 Sep 2013
Price per person in USD for private party of
1
2
3-4
5-6
7-9
10-14
Sgl Sup
650
395
350
310
295
275
40